I have been a satisfied Comcast Gigabit Pro customer for almost two years now, since my original installation in November 2019. Although the price tag is high, I have always felt that the exceptionally perfect service quality I get in return is well worth the price. Now, it seems I have even more to be excited about!
Comcast does have a history of upgrading service tiers, such as earlier this year when they universally converted the 1Gbps (1.2Gbps provisioned) cable service to a 1.2Gbps (1.4Gbps provisioned) cable service. However, it was unclear if and when an upgrade for Gigabit Pro might follow.
It all started last month with some rumors on Reddit that Comcast would be upping the speed of Gigabit Pro, adding an additional gigabit of capacity to the fiber hand-off.
Up to this point, Gigabit Pro service has sort of been a "2Gbps+1Gbps" symmetrical service. The service provides a 2Gbps fiber hand-off (10G fiber, rate limited to 2G), and a 1Gbps ethernet hand-off. Both circuits were able to be used simultaneously, as I demonstrated briefly at the end of my installation article.
With the upgrade in place, I now have a "3Gbps+1Gbps" symmetrical service!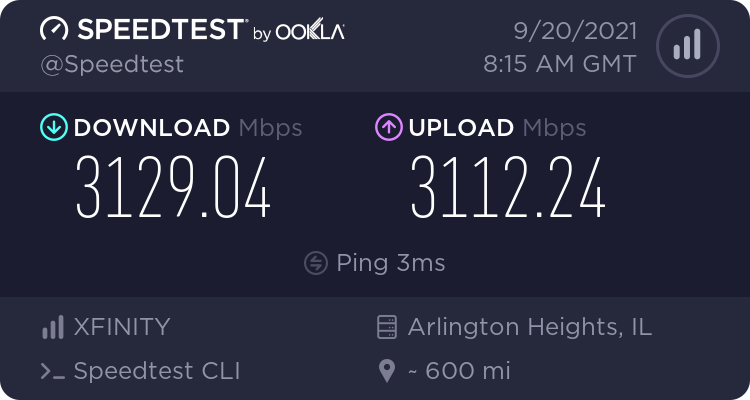 I have tested and verified that both circuits are able to be used simultaneously, at full speed, for an extended time. A screenshot from my router follows:
This testing was not perfect, I was testing to a single multi-gig cloud server at a single Internet provider. I have no doubt that this is the reason for the slight fluctuations in achieved throughput. It may also have fluctuated a bit since I was capping everything out in both directions, which may have caused some increased TCP ACK latency and may have degraded the performance slightly.
Regardless, I believe this demonstrates clearly the additional value provided by the Gigabit Pro service tier upgrade!
At the time of this writing, Comcast has not updated all of their marketing materials, and some markets (particularly Western US) may not receive this upgrade until October or November 2021. But, if you are a Gigabit Pro subscriber, rest assured that your upgrade should be coming soon! 🙂
I hope that a price increase does not follow… but I am quite excited and pleased by my upgrade!
Update on 10/7/2021:
I finally received the official email from Comcast announcing my speed increase. 😛