As an excited prospective Gigabit Pro customer, my favorite reading to return to has been James Watt's Medium.com article about his install experience. To that end, I wanted to create a similar post documenting my own install experiences so that you future Gigabit Pro users can learn from my experience and maybe get some of your questions answered.
The focus of this article is not a technical article about how I prepared my network for 10Gbps. I may create another article soon detailing the setup of my network and how I am handling the bandwidth. The purpose of this article is to document my installation experience. So let's dive in!
Initial Inquiry
My journey starts in mid-April of 2019. I headed over to the /r/Comcast_Xfinity subreddit to inquire on how I could get an order going. They were actually quite helpful over there, and shortly I was receiving a call from a representative from Comcast Sales Operations.
Talking with the sales representative, he was able to look at his network maps and determine that there was a fiber tap very close to my house, actually only about 5 houses down to the main street. Based on this information, he thought I should be eligible for the service.
For those of you who are curious if you might be eligible, check utility poles near you for something that looks like this: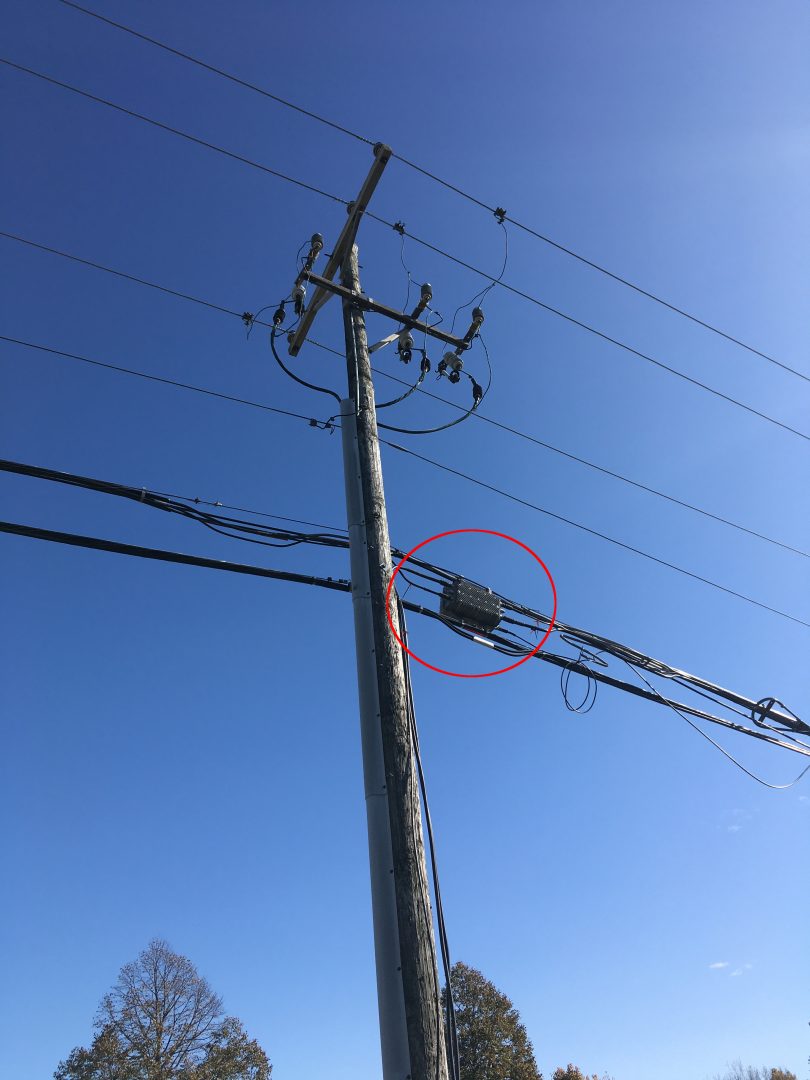 I went over all of the initial information with sales, pretty much in line with what I had found out during my research. It would basically cost $1,000 to install and $319.99/month thereafter. This was not unexpected, but was a large increase over the roughly $70/month I was paying for my cable line, so I decided to give it some thought before proceeding.
My old WOW cable Internet continued to be on the decline in quality, and it didn't seem like there was any resolution in sight. This frustration gave me the push I needed, and about a month later in mid-May, I was reaching back out to sales to tell them to get the ball rolling.
Pre-Installation Process
Although I appeared to be close by to the fiber tap on the maps, the first step in the process still needed to be an on site survey. Comcast informed me that they would get someone on the site to make sure I was really eligible, and then we could move forward from there.
It was made clear to me that this was going to be a multiple-month process, and if eligible, we would "try" to get it installed before the winter months came and the ground would become too frozen to dig.
Someone must have come to the site at some point, but no interaction was needed with me. Comcast didn't call me back directly, but after a few weeks I called to follow up and was told that my initial site survey had been approved and we were moving forward with the installation.
The next step would be waiting for approvals and permits. Evidently the install process for Comcast works something like this internally:
Perform site survey to make sure that the building is serviceable.
Create a formal installation design \ plan and submit it for approval.
Review of the installation plan by finance team to determine if costs are acceptable to move forward.
Submit permit requests to applicable local government.
Begin construction once permits are received.
The whole installation was rife with misinformation from my Comcast representative who always seemed to be out of the loop and a few steps behind on the process, which makes me wonder who is really in charge of coordinating the tasks. I don't hold this against him but I do think there is a ton of room for Comcast to improve communication both internally and with their customer during this long process.
A few examples of such confusion \ misinformation throughout the process:
Around a month after being told my site survey was complete, I received a call from the construction contractor asking to schedule a time to meet me for a site survey. Apparently this was when he was out to draw up the design.
At one point, I was told by Comcast that we were "waiting on permits" from the government and then told by the cable installer contractor that we were waiting on Comcast for financial approval. That turned out to be correct, and once it was approved then the wait for permits began.
When construction began, I called up my Comcast rep to inform him of the progress, but couldn't reach him. The next day he called me to inform me that the permits had come in and we could start construction soon. (Though it already started a day earlier.)
5 Months Later
Most of what I had read online suggested that it was about a 3 month lead time from inquiry to install, but for me this was not correct.
Finally after months of waiting for permits and approval and seemingly making no progress, the contractor called me to inform me that they were scheduling directional boring. From mid-May to the beginning of October, we were finally ready to get some actual work done.
The installation would happen in 4 stages:
Directional Boring – The cable contractor installed an orange conduit several feet underground leading from my back yard to the utility pole where the fiber tap is located.
Pulling The Cable – The cable contractor would visit to pull the fiber cable from my basement to the utility pole.
Splicing – The cable contractor would visit to add the connections on both ends of the cable and plug it in.
Setup – Comcast would send out a representative to install the Juniper router and actually bring the connection up.
Directional Boring
The directional boring process began for me on the last day of September. No appointment was necessary, I simply awoke in the afternoon to the sound of machinery running outside. I had missed the voicemail from the contractor so I wasn't even aware anyone would be coming – it was a really nice surprise.
Most of the work occurred in the utility easement behind my house. They did have to bore into my backyard, but they only dug a single hole next to the house. It doesn't appear they even brought the equipment into my yard.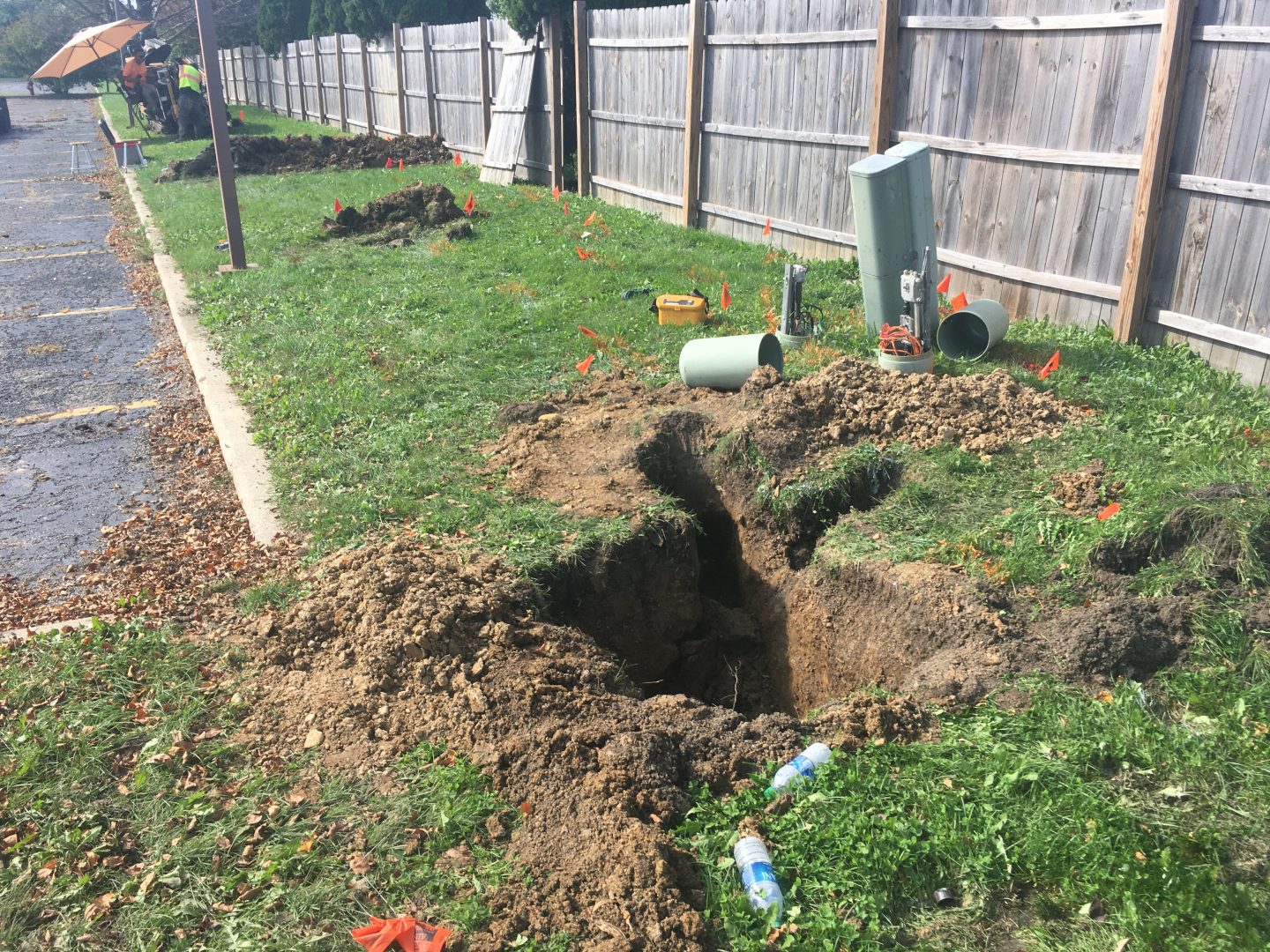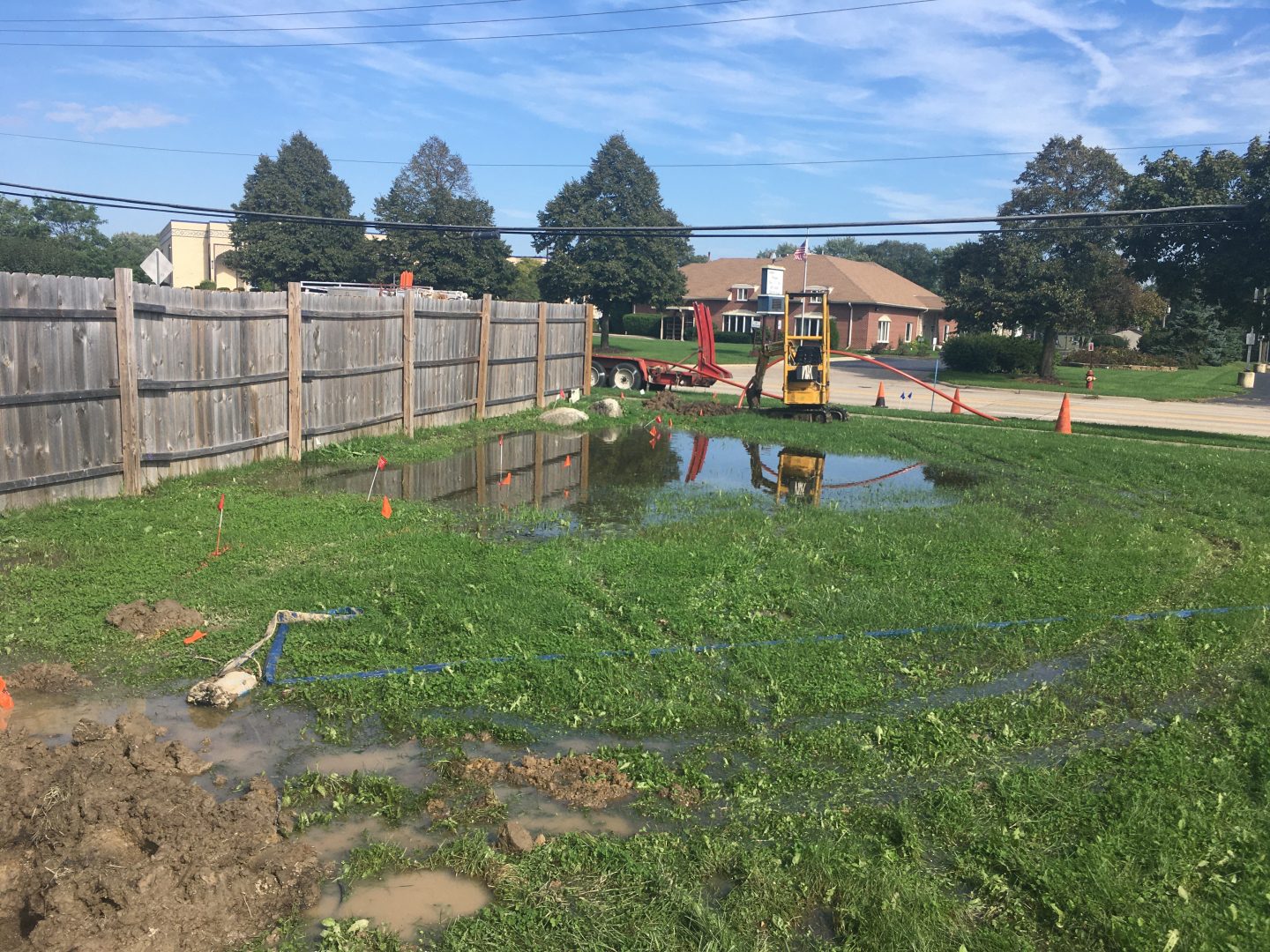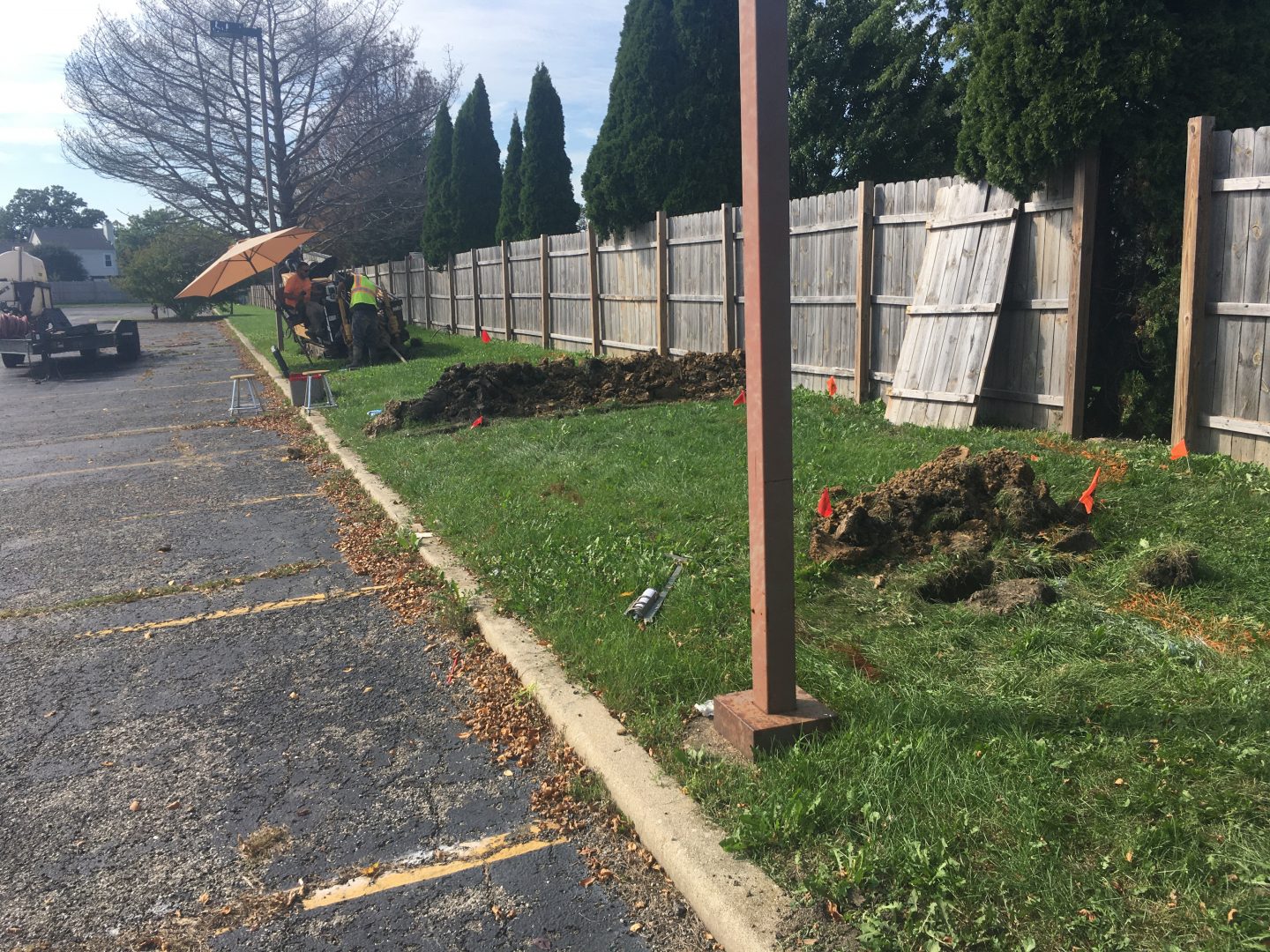 This was such a process, they actually had to leave their equipment overnight and finish the next day. Of course, being as excited as I was, I had to go back and take some pictures to document this part too!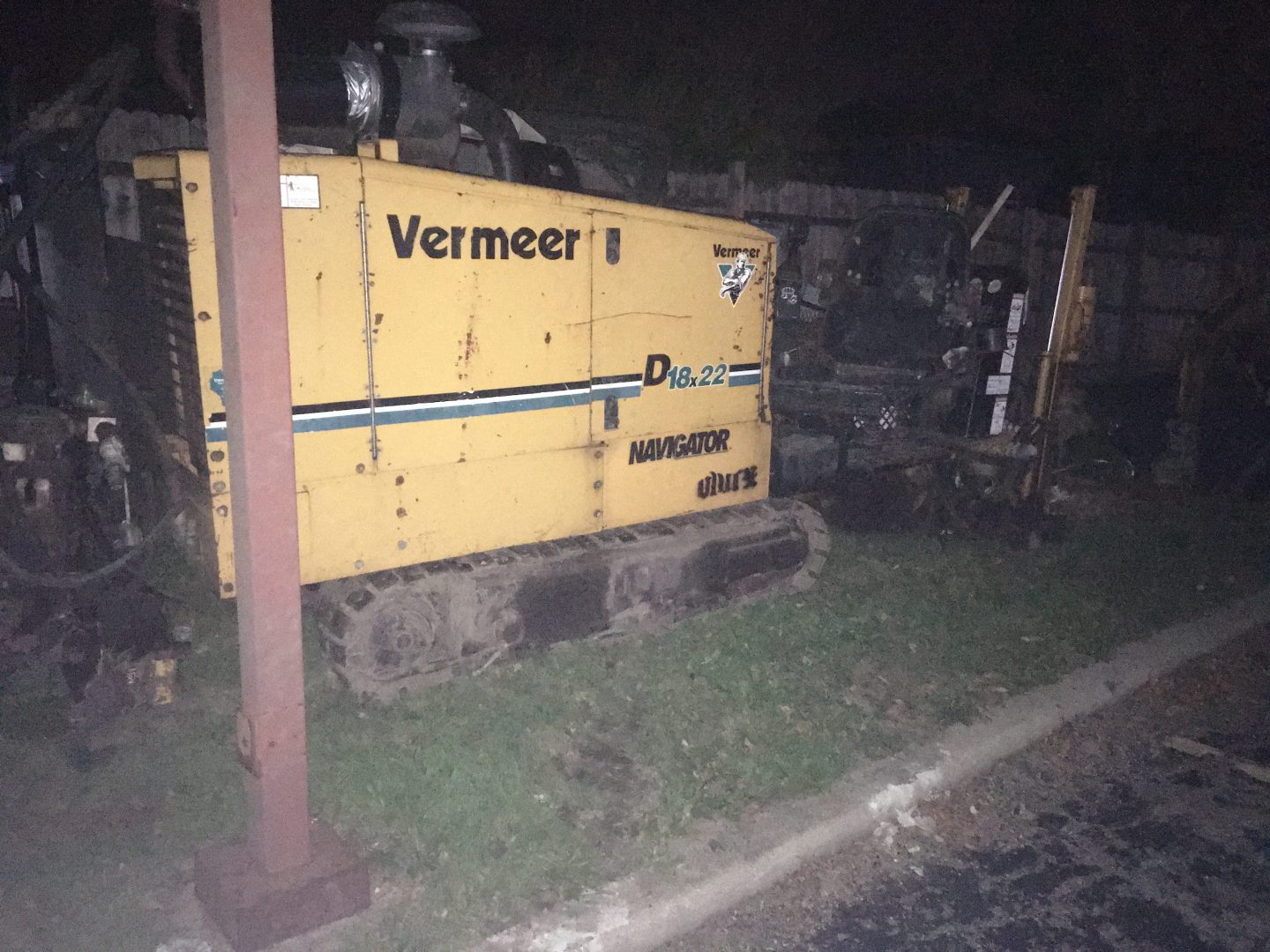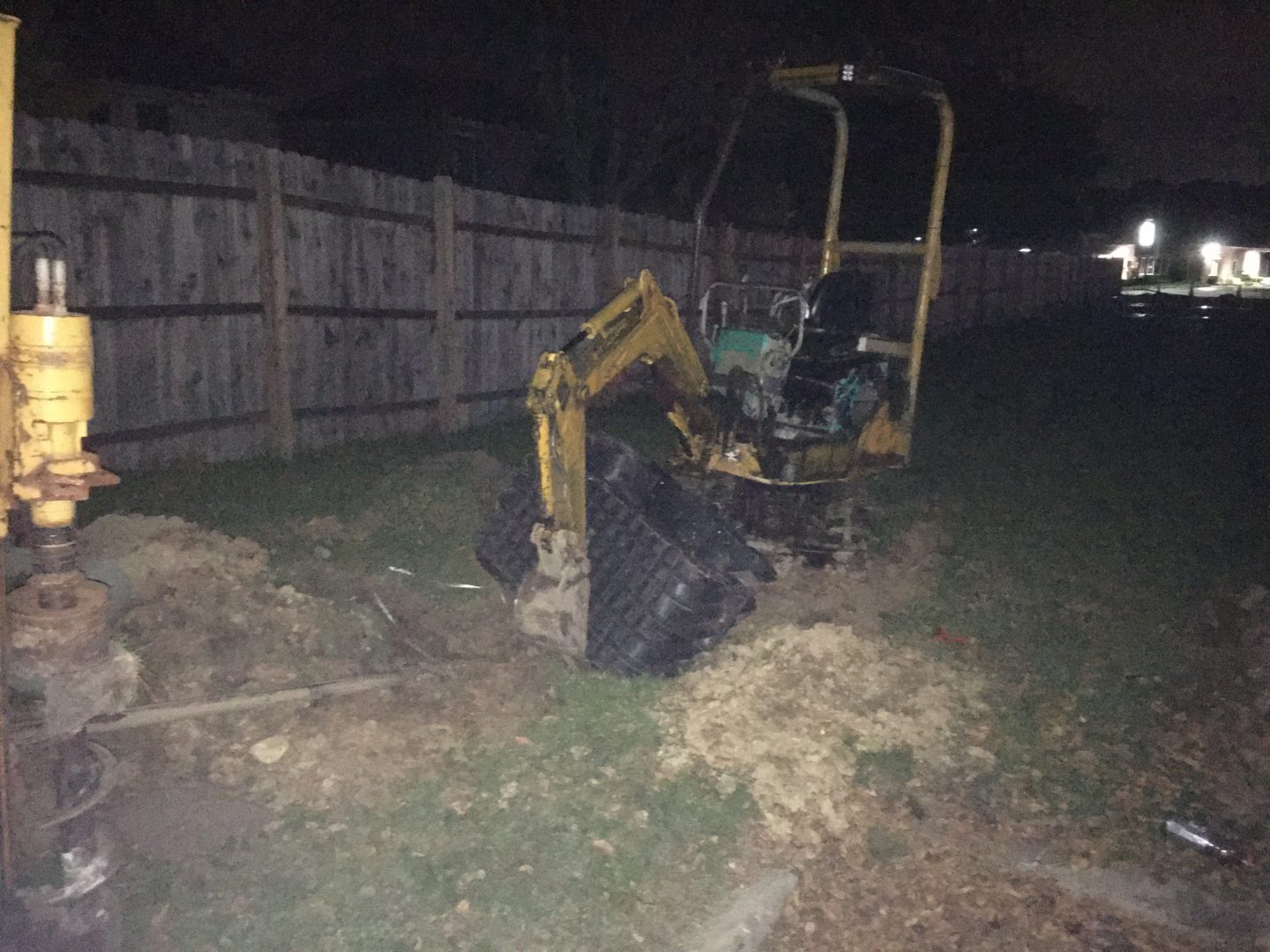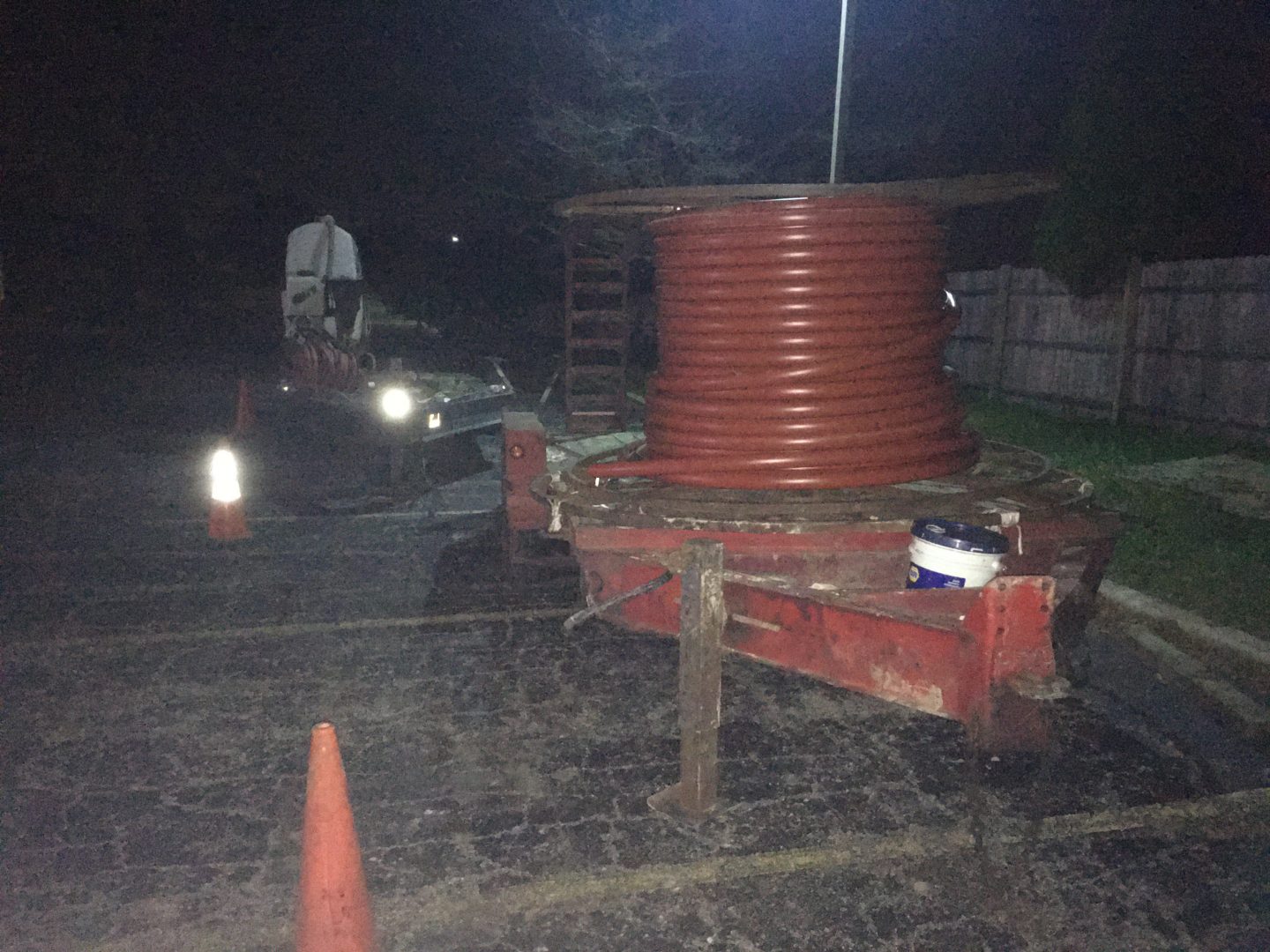 Once they came back the next day, they finished everything up and planted some grass. They left a pull cord in the conduit so that they could return and fish the cable more easily later.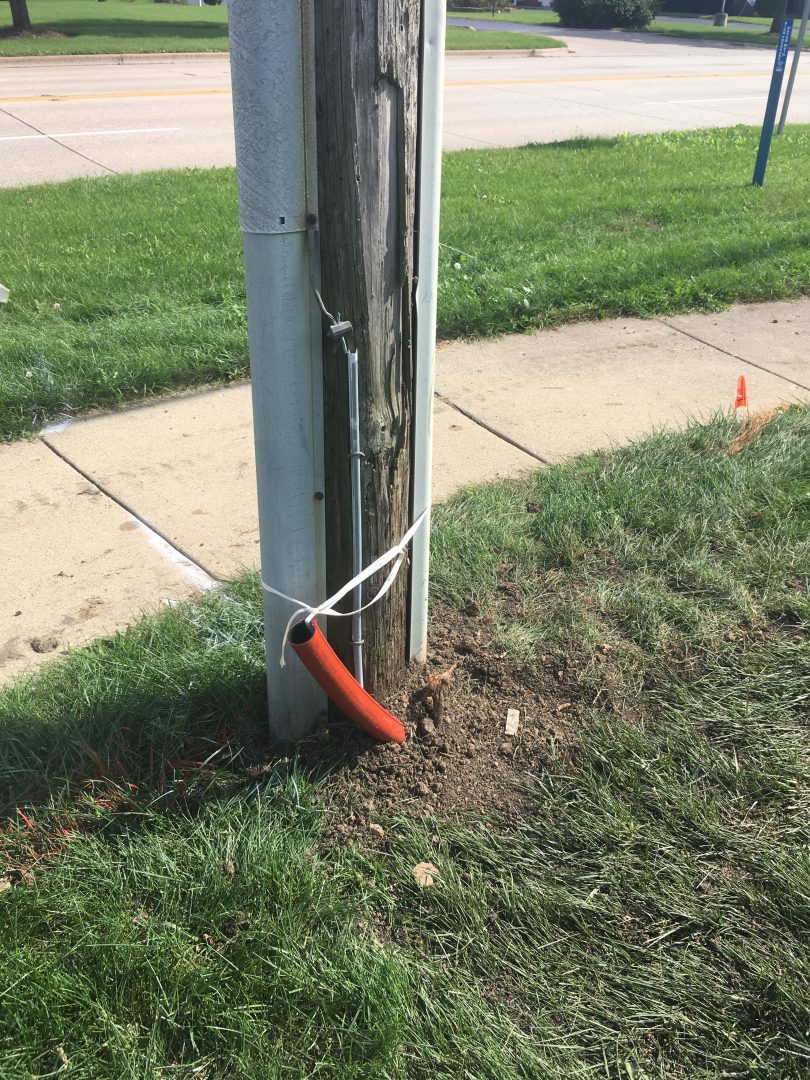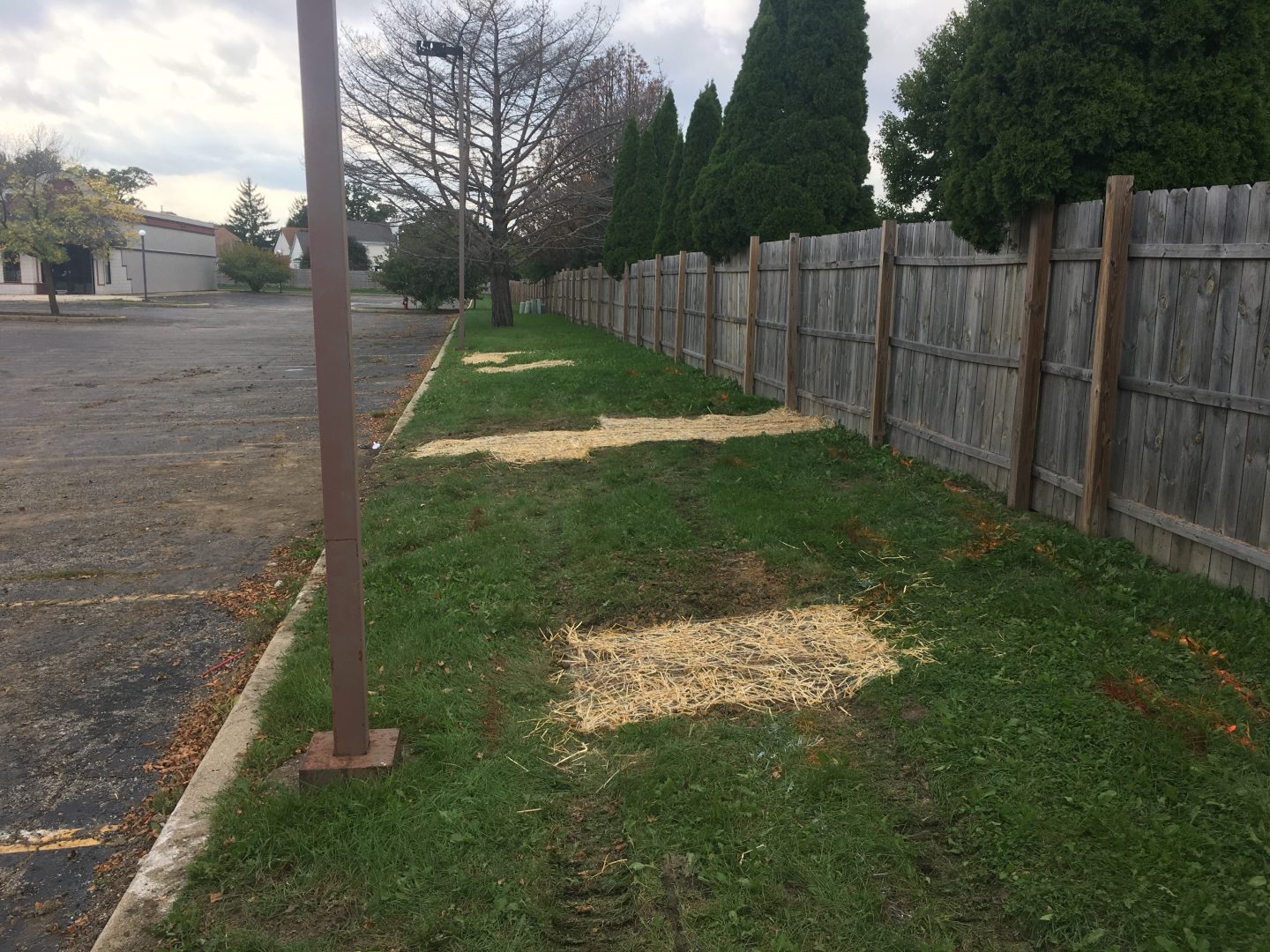 Running The Cable
I eagerly waited for the next step to begin, and for me it took about 10 days. I awoke to a few missed calls, and Comcast's contractor was telling me they had some crews nearby and asking if they could do the installation that day.
I had work in a few hours, but I'd been waiting for this so eagerly for so long, so I made it work. The crew came out and promptly finished the inside part of the job so I could go to work on time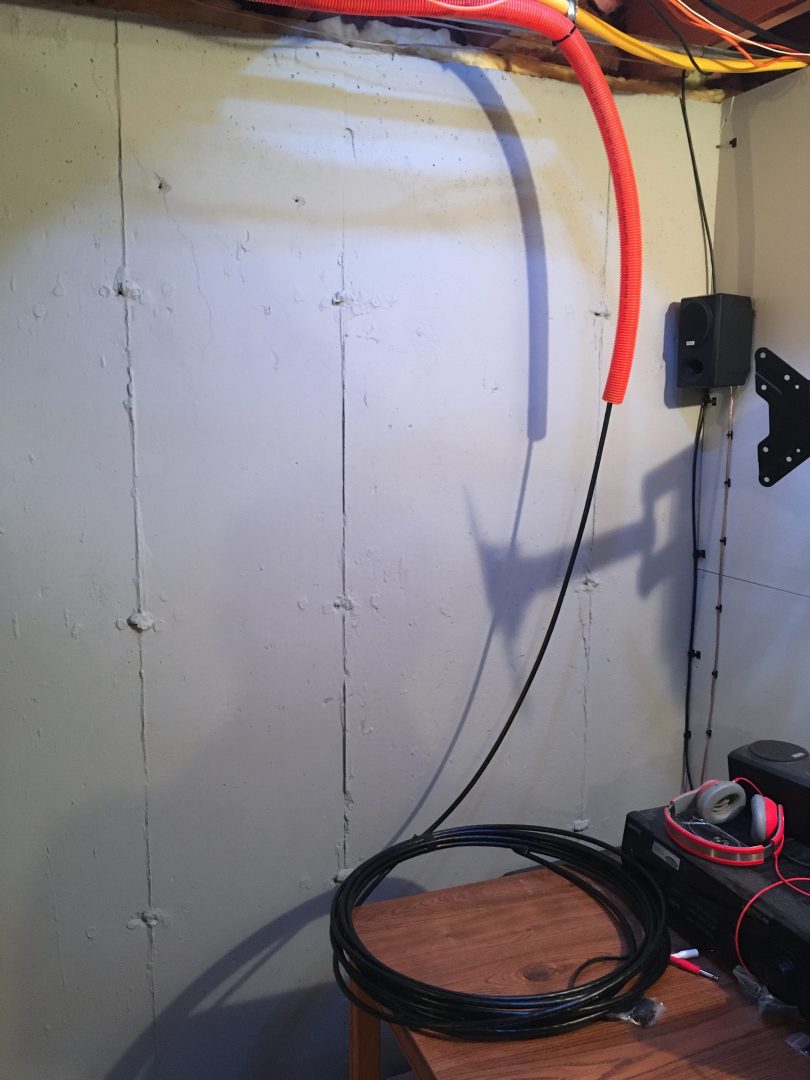 When I returned from work, I was thrilled to see that the fiber was hanging from the utility pole. I went out the next morning to take some pictures.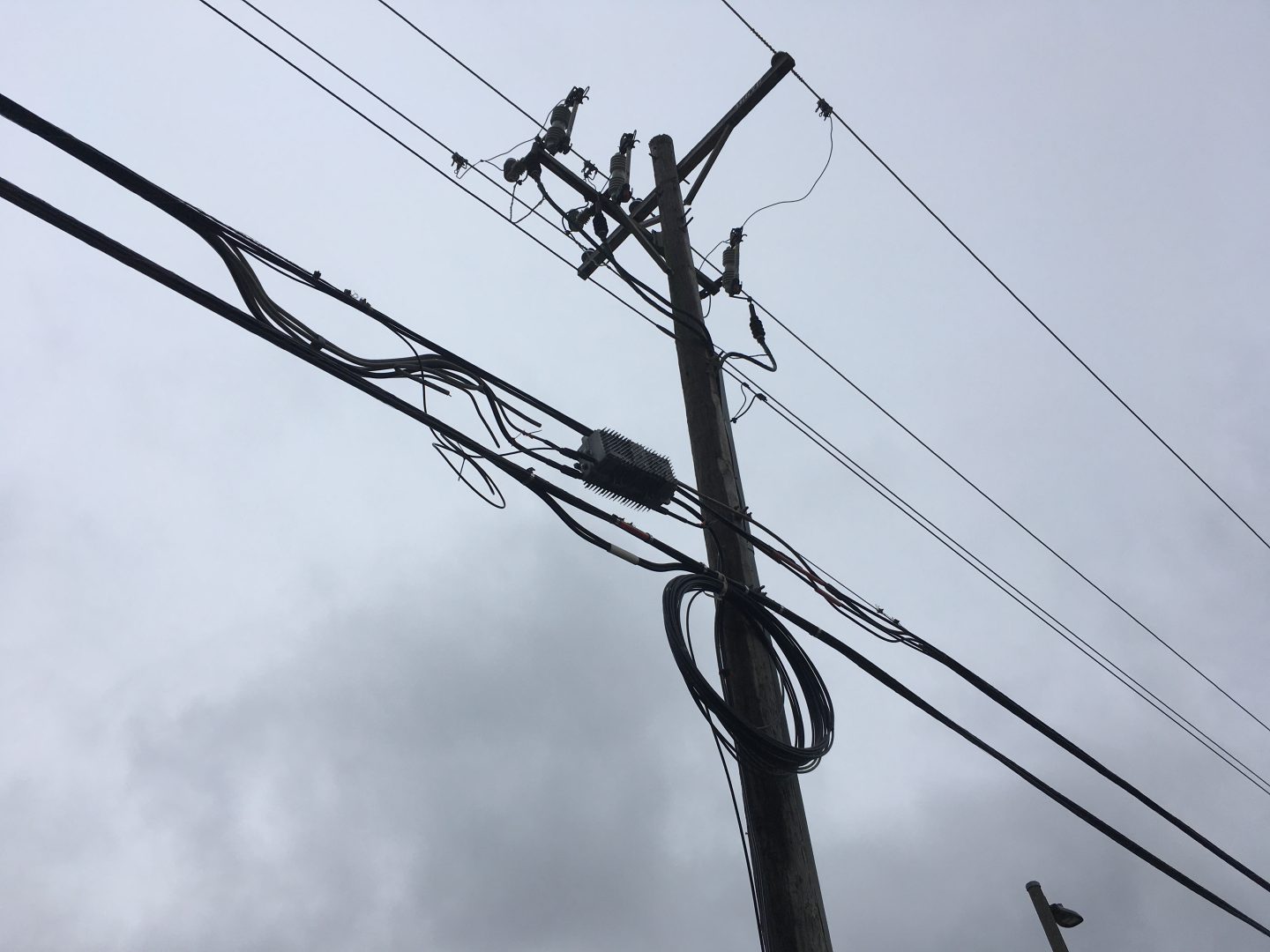 Now, I was just simply waiting for step 3 of the install – to schedule the guy to come out and splice the connection. The Comcast contractor informed me that we were waiting on final schematics from Comcast to proceed.
Almost 2 weeks later, there was still no update. There were some changes on the pole though, someone had moved my fiber around and made this mess that looked like it was ready to fall down any minute!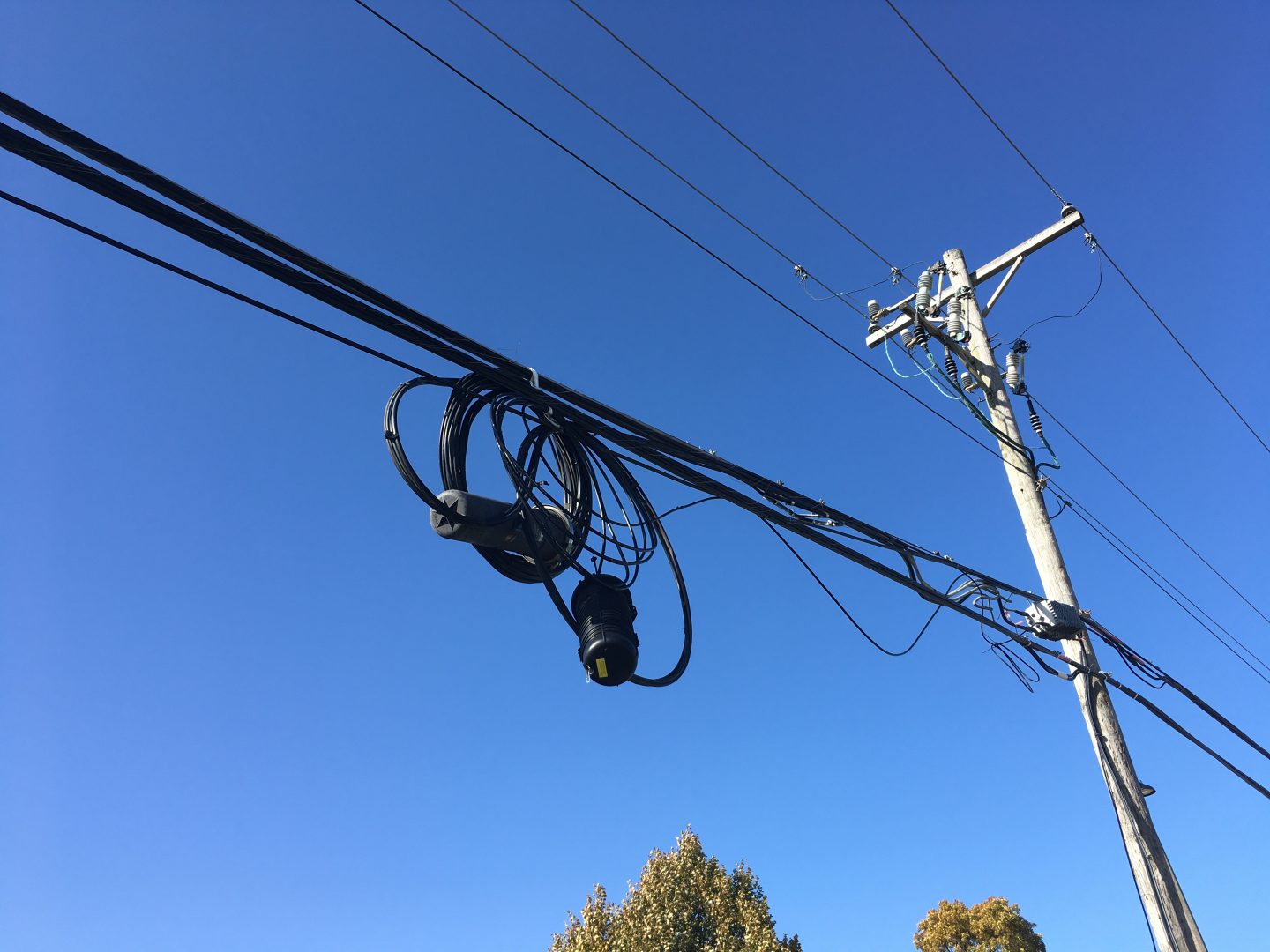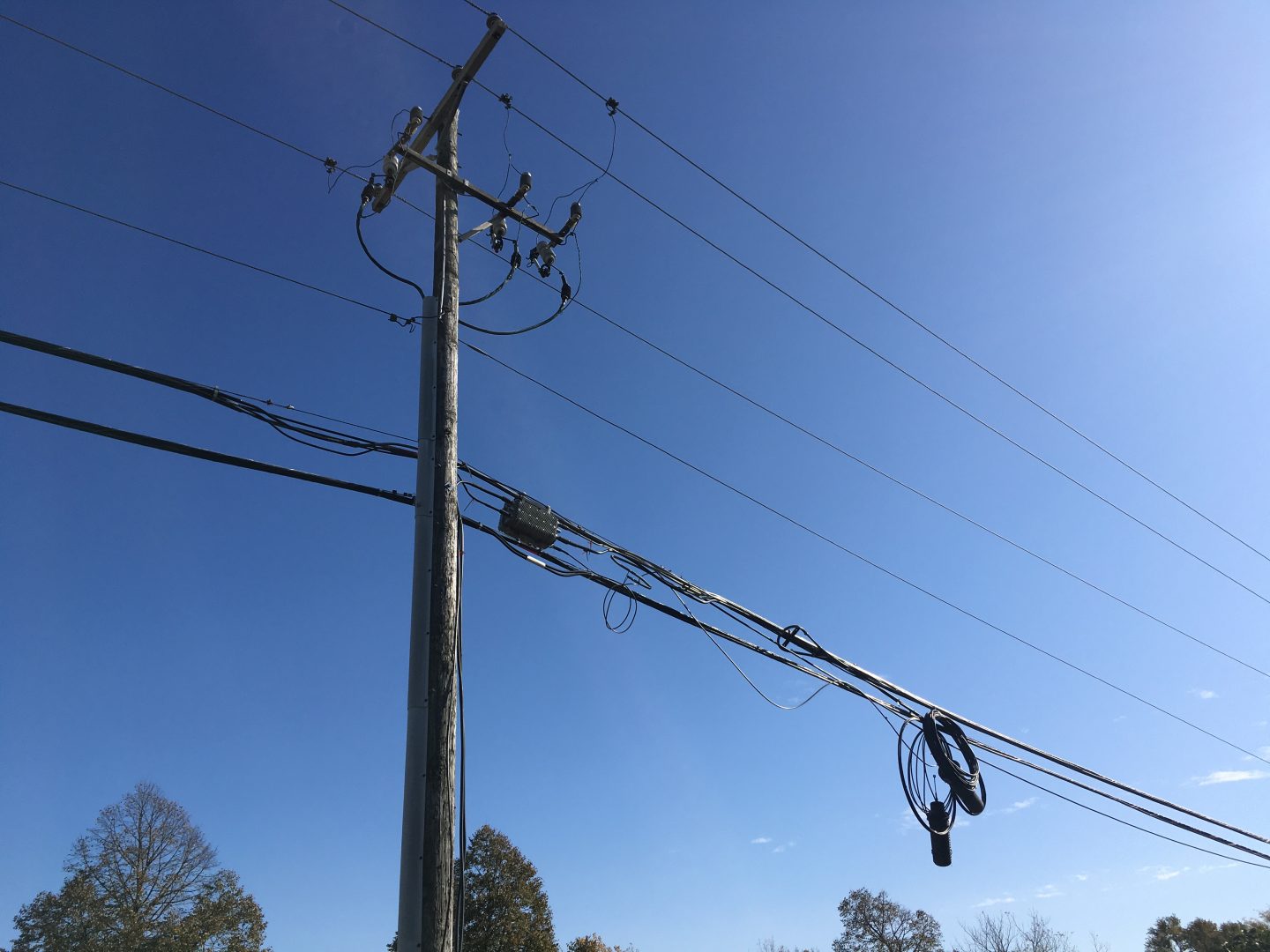 At this point, my contact at the contractor stopped answering my calls, and his voicemail box was full. I was so eager to continue the install, but even Comcast was not able to update me on what was going on.
Disaster Strikes… Temporarily.
During the wait, we had a weekend where we got very large amounts of rain. I was getting ready for bed one Saturday night, and ran down to the basement to quickly grab something. There, I was shocked to find my floor flooded.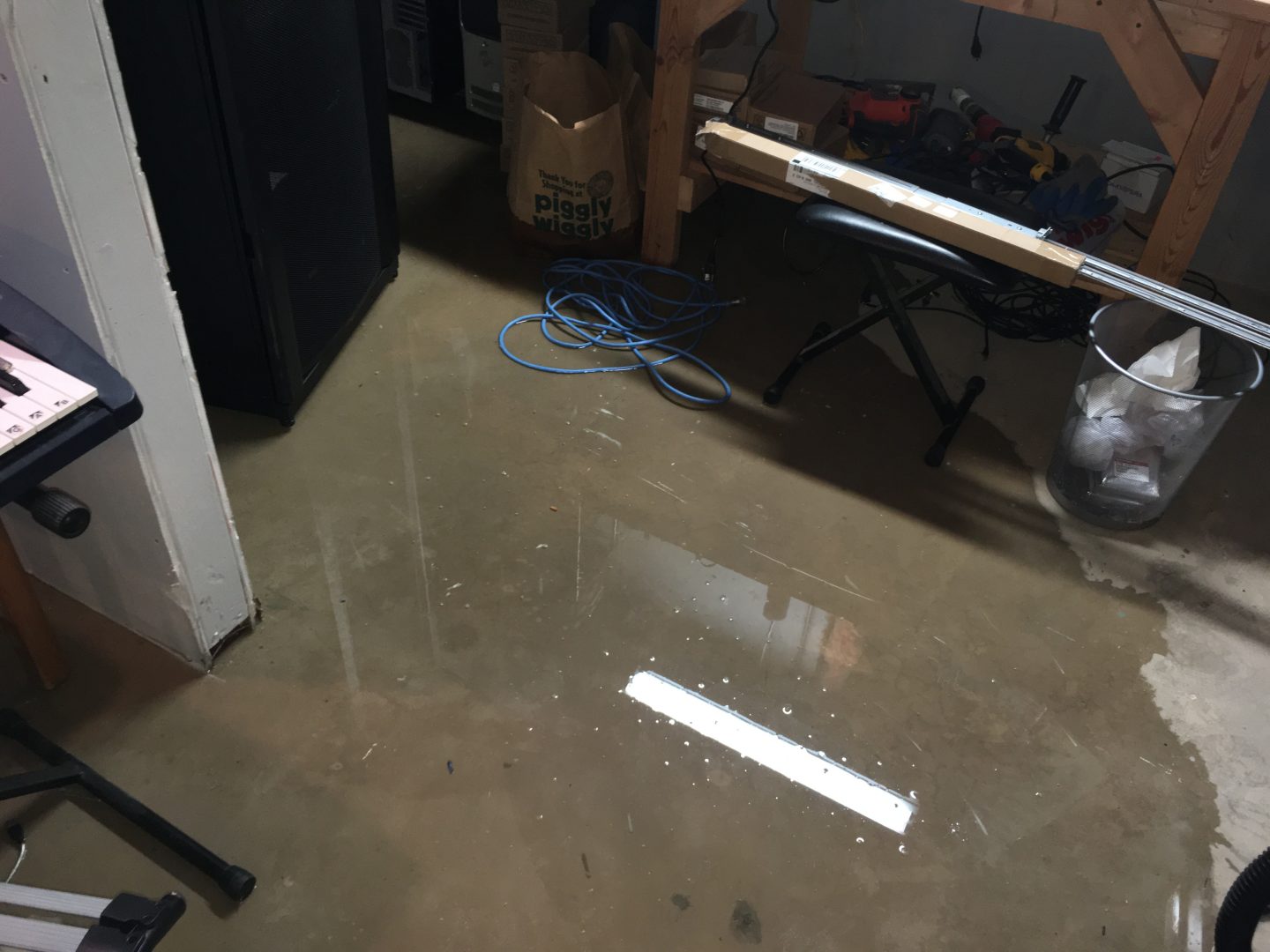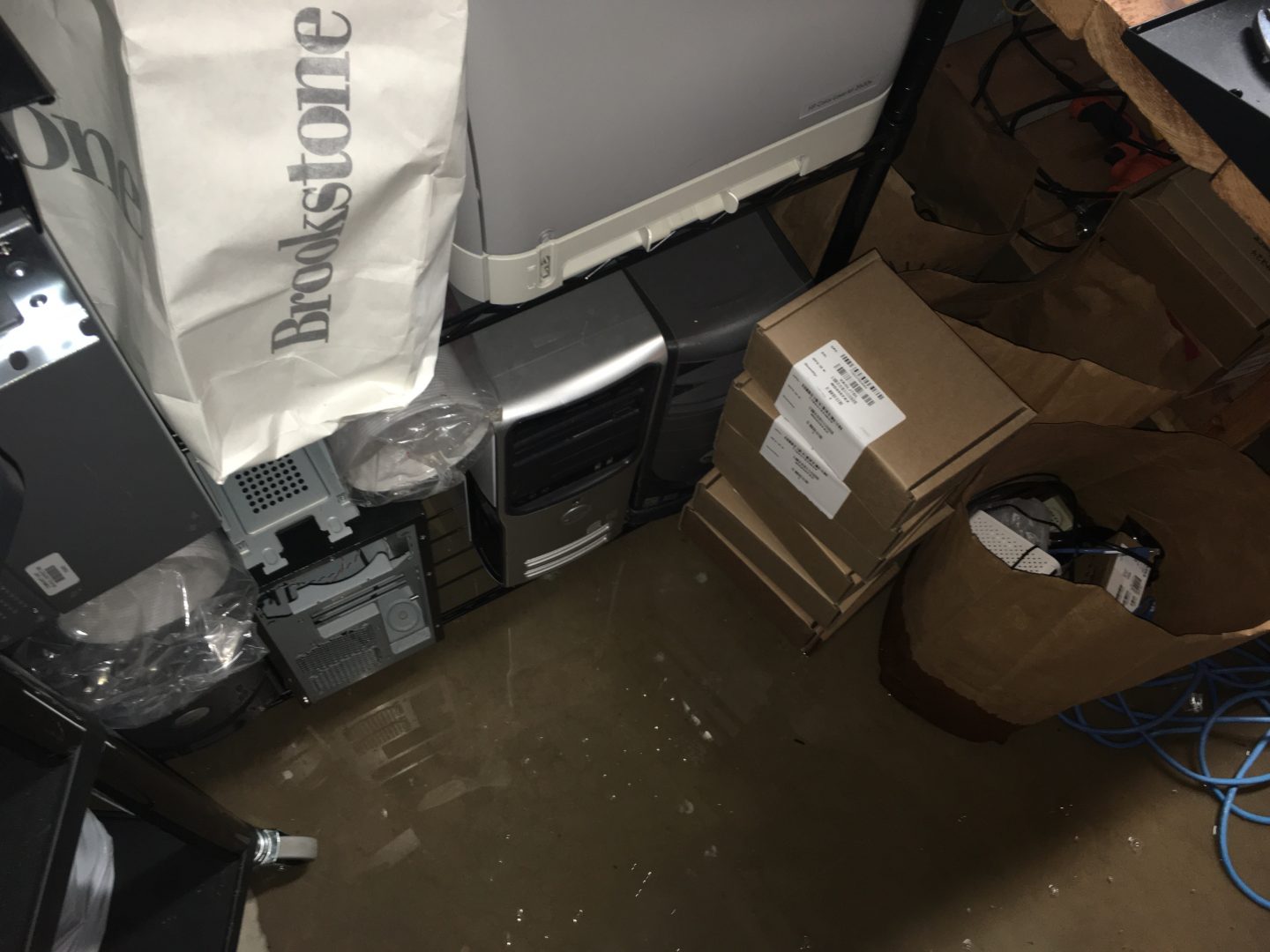 At first, I was just very surprised and confused. The areas where this water was located were not areas where there were any pipes or pumps very close by to account for the reason why there was water there.
It hadn't even dawned on me right away to check the fiber, until I swore I saw it drip while I was standing there trying to figure out what had happened. Sure enough, I gave it a little shake, and: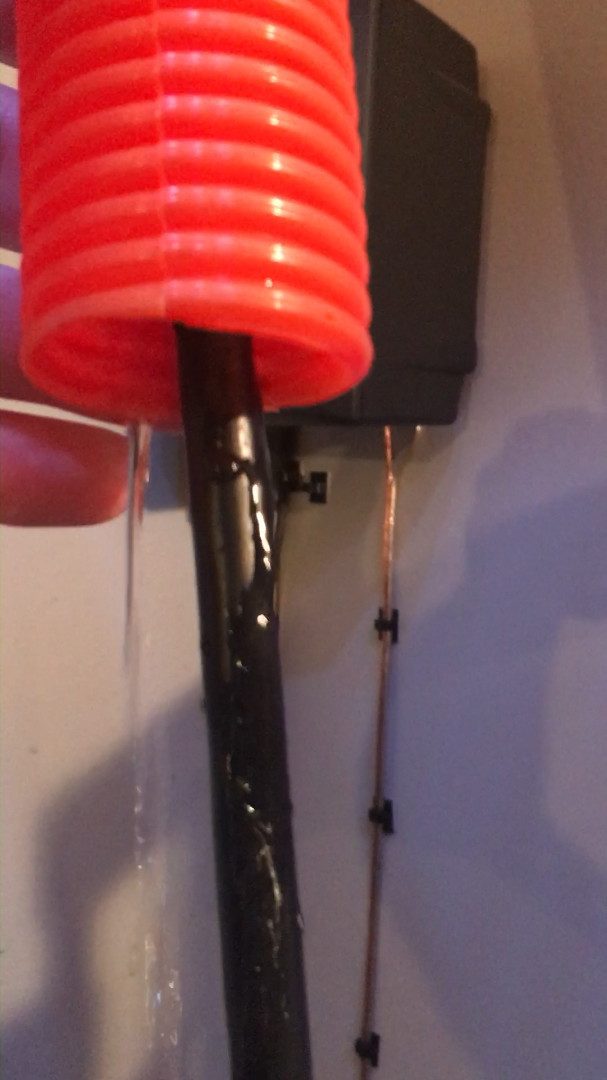 Fortunately, after a Sunday afternoon call to the cable contractors, they quickly sent someone out the next day to fix the issue (right before a week with lots of rain, too). Fortunately in the end, nothing of any value was damaged. The contractors did some additional sealing where the fiber comes into my house, as well as at the fiber vault, so we are hoping this issue is now solved.
I should note, my house is located at a very low elevation. The fiber cable is at a much higher elevation than my basement for most of its run, and my backyard is very sloped. This did not occur due to a poorly sealed entry point, they did a nice job sealing around the wall penetration, what actually happened was water entered the fiber conduit up at a higher elevation and then came rushing down the conduit into my house.
With this out of the way, this got me back in contact with the contractor and we immediately got the next part of the process moving!
Splicing The Fiber
Finally, I had some forward motion from the contractor again, and we were able to move forward with the splicing part of the installation at the very end of October.
For this part of the installation, two Comcast techs came out with some expensive equipment and completed the splicing of 6 fiber pairs into a patch panel which they installed in my rack.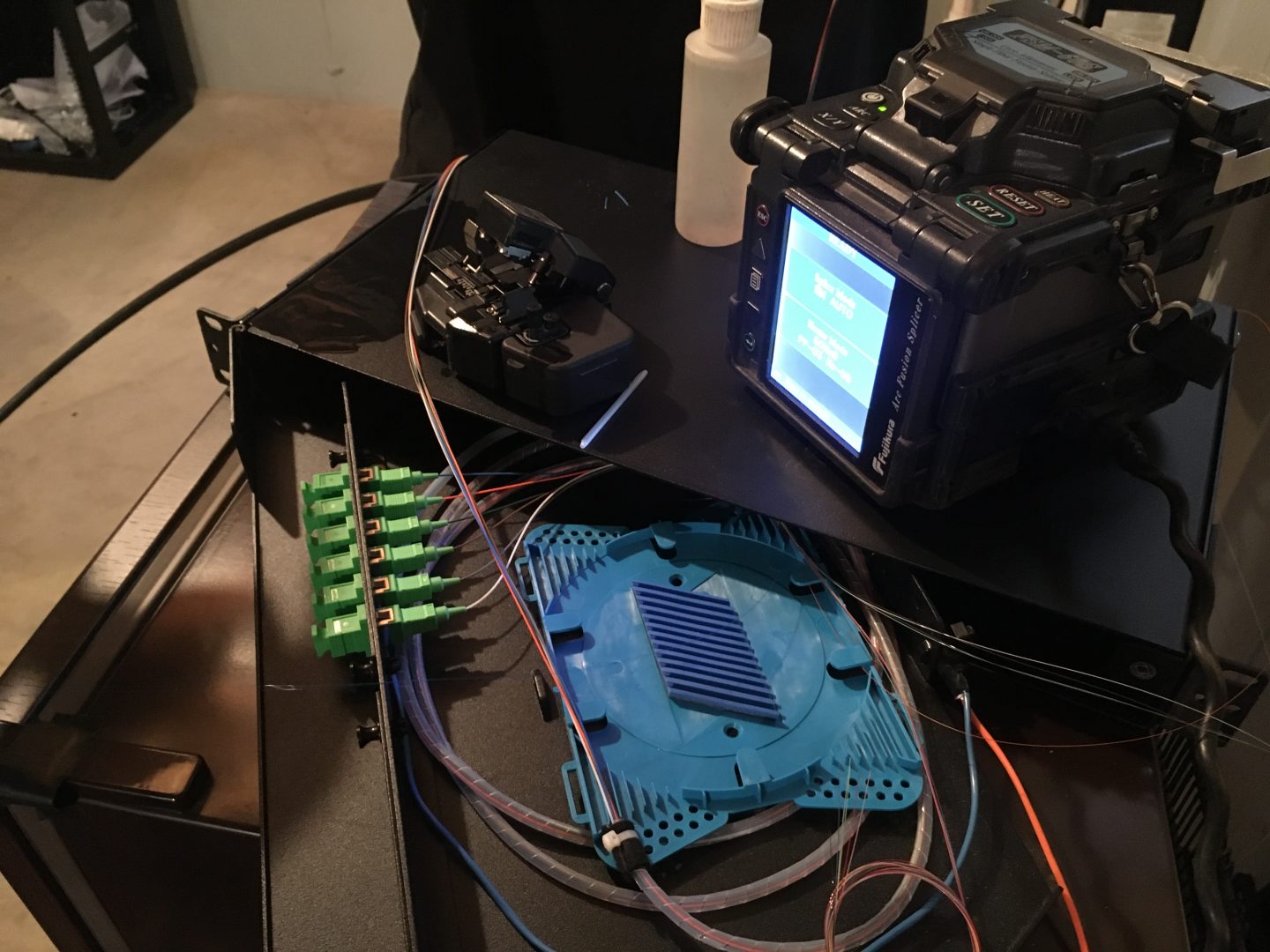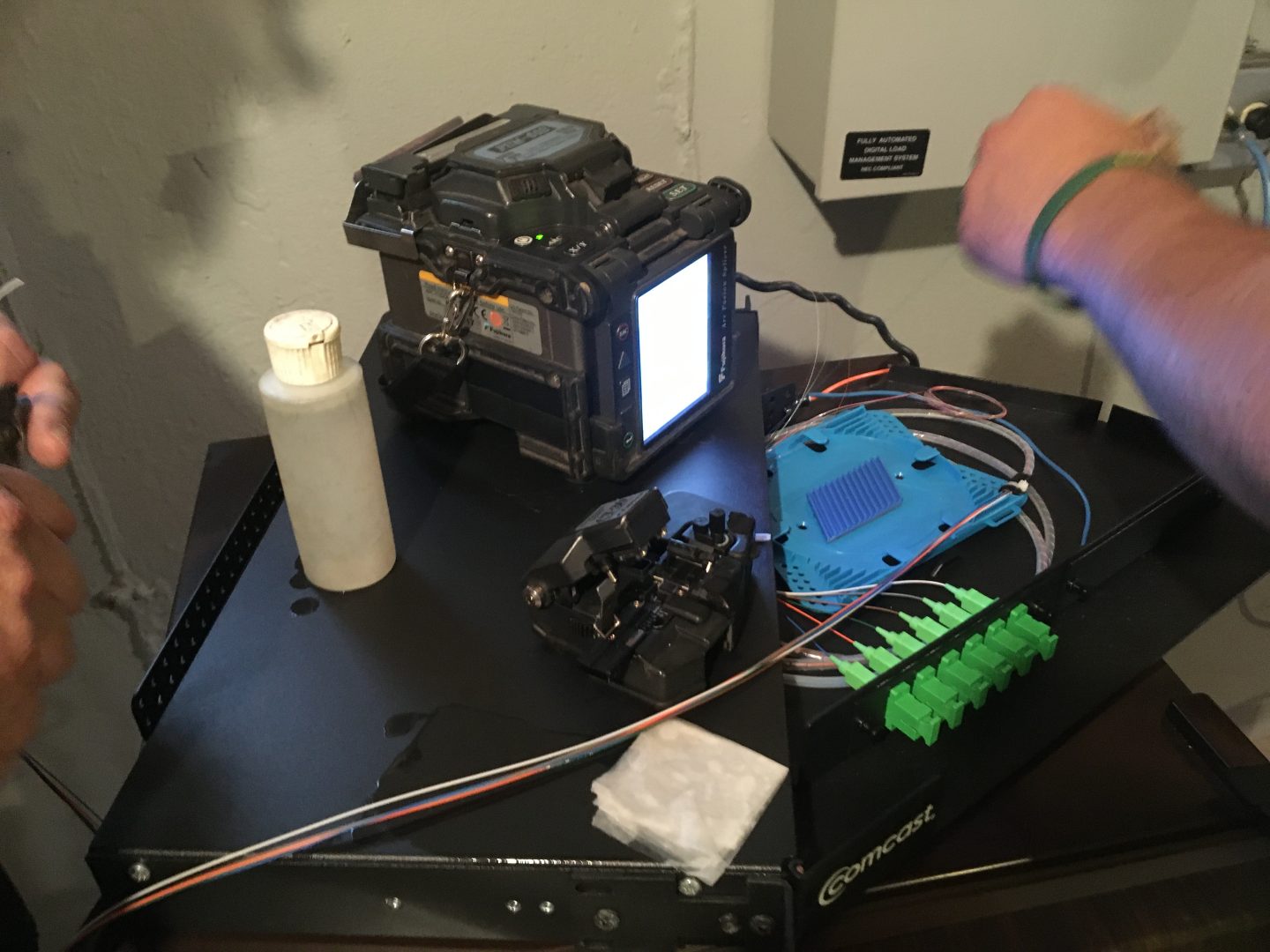 Once they left, they informed me that they still needed to complete some work on the pole before they would be able to pass the job back to Comcast.
This would take another 9 days, but finally, the contractor's work was done and Comcast was ready to schedule the last appointment for the installation!
Comcast needed some time to order the equipment, so the installation would be scheduled a little more than a week out, for a final install date in mid-November.
The Historic Day — Installation!
Today started out very early for me. I am a night shifter, and for most of the install process I have had a lot of success scheduling things at 2PM. Unfortunately, for this part of the install, they would only schedule it at 8AM. So, last night, I got to bed as early as I could after work and started the day a bit sleep deprived.
A few minutes before 8AM, I popped out of bed and saw a Comcast truck parked outside. I went outside and talked to the technician, who had arrived with an XFi modem for Gigabit cable service. I explained to him that this was a FTTH service and we needed different equipment. He fortunately understood what I was talking about and put in a call to dispatch. At this point, I also tried to reach my account manager via phone, but apparently he hadn't started his day yet. After finishing his call to dispatch, the tech informed me that someone else would be en route.
I called the 1-800-XFINITY hotline and spoke to their appointment managers to confirm that someone else was on the way. It seemed like everything was being handled correctly. I got off the phone and 30 minutes later the correct technicians with the Juniper equipment arrived!
The install started out pretty smoothly, the Juniper ACX2100 was racked up and powered on and fiber connected to the patch panel. Unfortunately, the head-end had installed the incorrect optics. There was a 1Gbps SFP at the head-end and my 10Gbps SFP at my Juniper would not negotiate a connection (plus the connection is supposed to be above 1Gbps). The install technician was very patient and stuck around for several hours while making phone calls and trying to get the head end issue resolved.
Eventually, after someone was finally dispatched to the head-end, they did not have the correct SFP. I almost thought my installation would be off for the day, but as luck struck, the technician on site at my house found that he did have an extra correct module. So he drove off to the head-end to install it himself.
Upon his return, we finally were getting somewhere. He spent several more hours on the phone with the Metro-E team performing circuit testing to ensure that everything was up to quality specs.
In total, the install which we expected to take 4 hours took just over 6 hours. I was glad that we scheduled it so early in the day, or it might not have even gotten done in a single day.
I really do have to commend the install technician for his persistence and I feel he went way above and beyond the call of duty to make sure my connection got online today. I plan to leave him an outstanding review when his project manager calls to take my feedback survey, which my account manager told me to expect.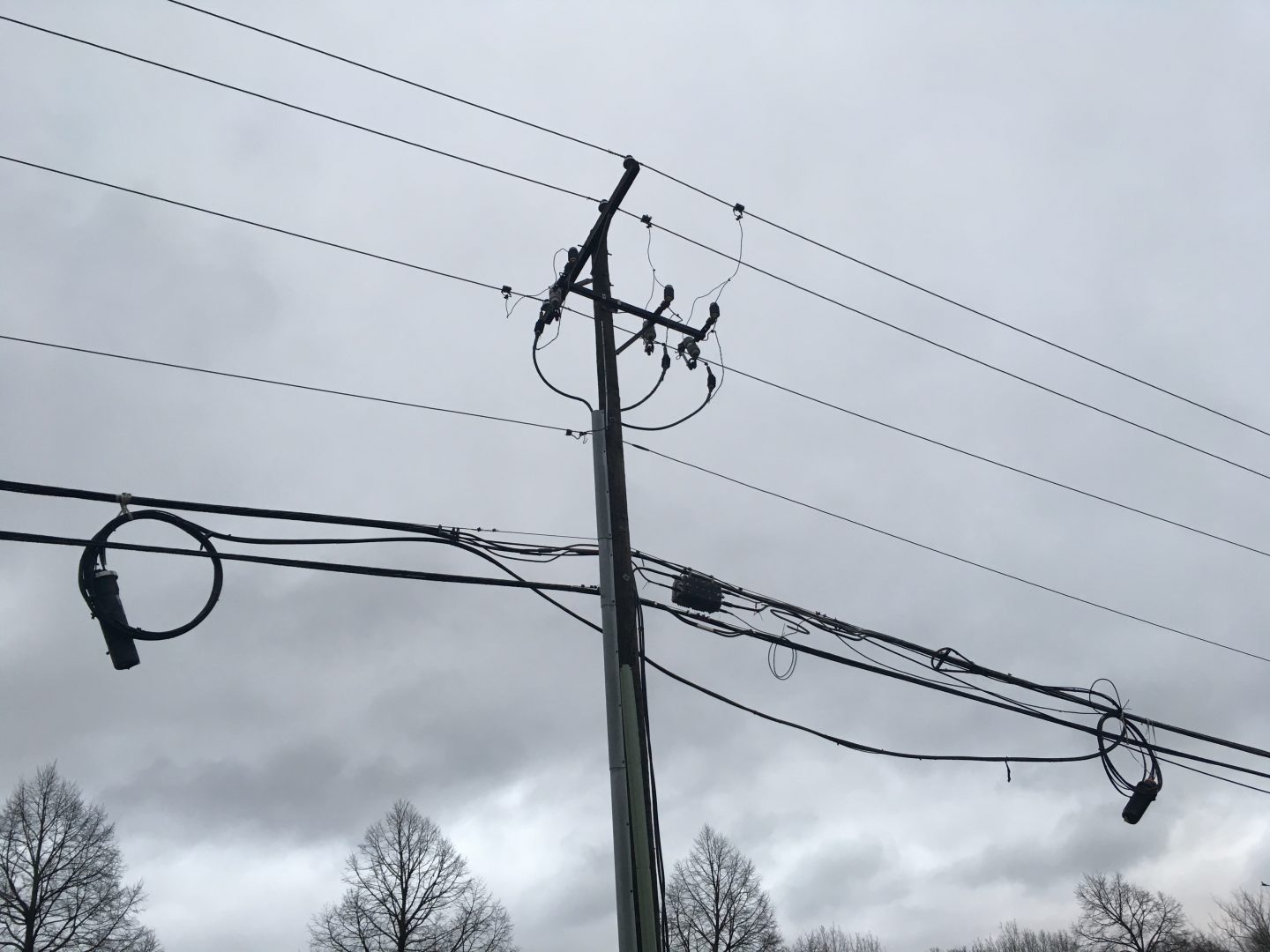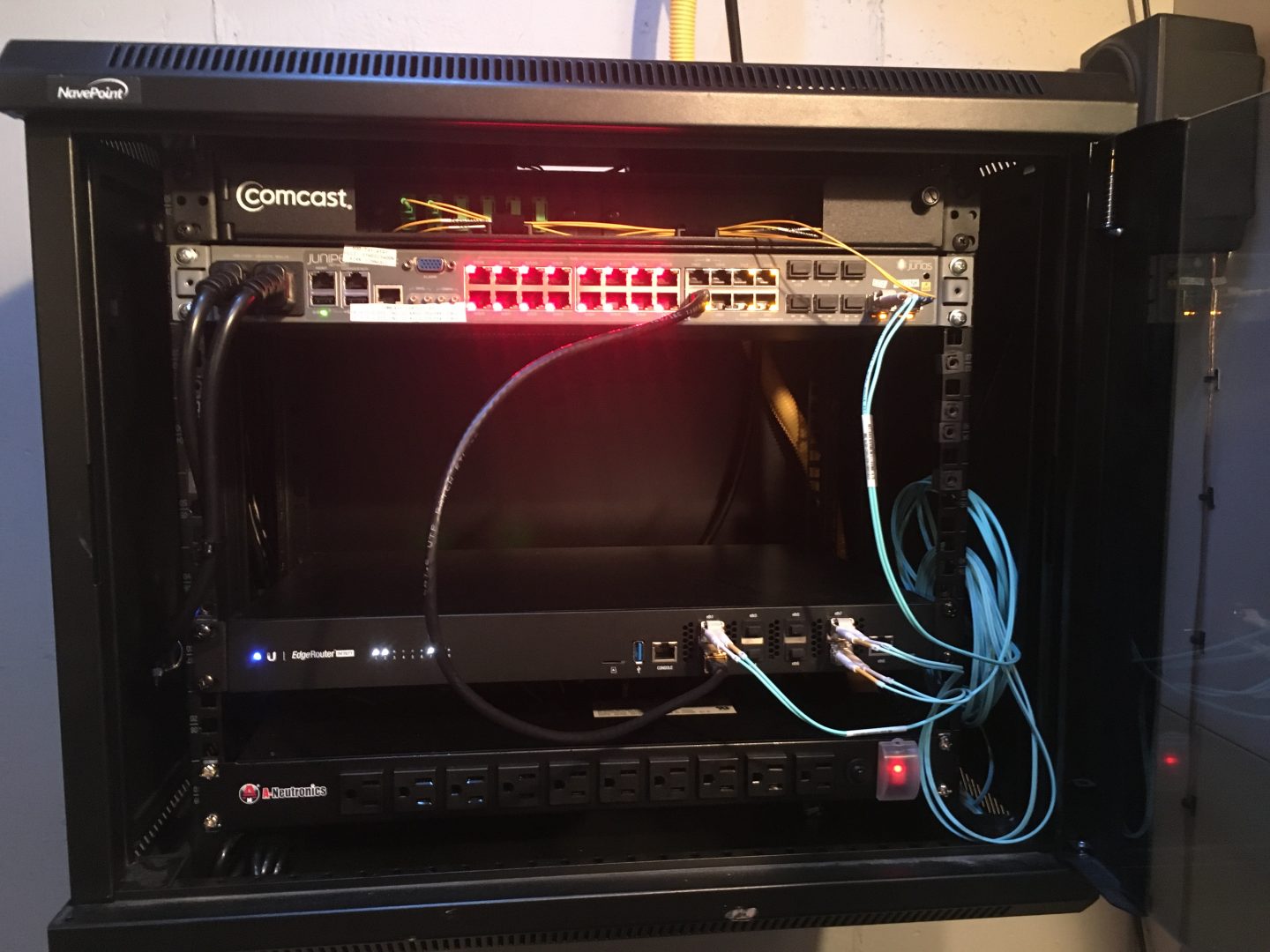 So now that it's installed, how is it?
I don't think reality has even quite sunk in for me yet, but from my experience so far, I feel that I now have the best Internet connection money can buy!
How can you beat a stable 2.5ms ping to Google?!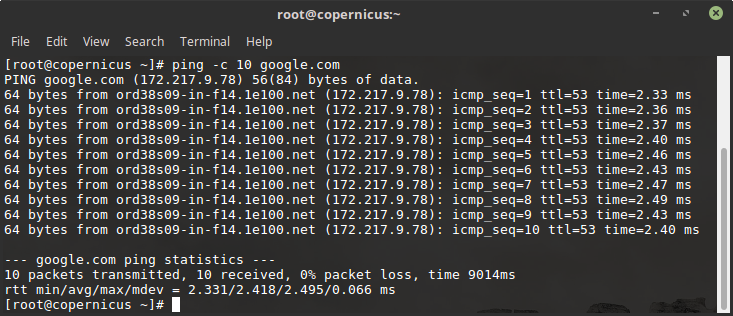 This next part seems to be up for dispute on a lot of Reddit\Internet posts, so let me clear this up for anyone who wants to know.
Yes! Gigabit Pro comes with two circuits. A fiber optic handoff provisioned for 2Gbps/2Gbps and an ethernet handoff provisioned for 1Gbps/1Gbps. Each circuit gets a public IPv4 and a /48 block of IPv6.
Here are my current speed test results on each independent circuit: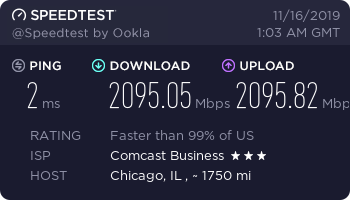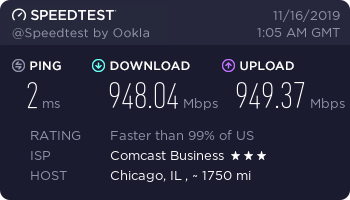 How am I going to use all of this bandwidth? Well, I consider the copper circuit to be somewhat of a bonus, so I am planning on using Policy Based Routing (PBR) on my Ubiquiti EdgeRouter Infinity to route very quality sensitive traffic, such as VoIP phone traffic and my Twitch RTMP broadcasts, out the ethernet connection. This way it will not be impacted by bursty traffic on my fiber connection and will provide the best overall quality and reliability. I was doing something similar already with my existing dual cable modem dual ISP setup that I had created temporarily while waiting for the fiber.
For those wondering, my preliminary testing shows that it is in fact possible to use all 3Gbps at once:

Overall I am extremely pleased with the service so far and I look forward to being a Comcast fiber customer for years to come! 🙂