There was once a time when reading my spam folder was actually entertaining.  I got to sift through wild stories about Nigerian royalty, deceased relatives I never knew I had, and relatives claiming to be stranded in faraway lands like Spain and England, mugged, and without their passports.
But lately, I've been looking for humorous spam emails like these, and I've been very disappointed by the lack of effort put forth by today's spammers.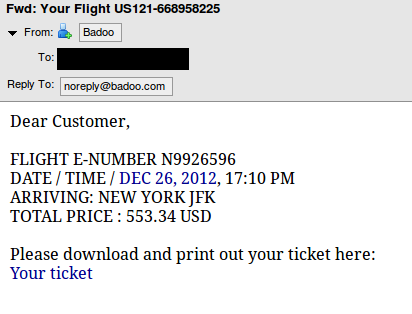 Interesting… I can't say that I remember scheduling a flight into New York, but who am I to argue with a legitimate airline like Badoo?

This might be more convincing if I actually knew VERNELL, or had an HP scanner.  It's kind of amusing that they originated the email from my own domain name.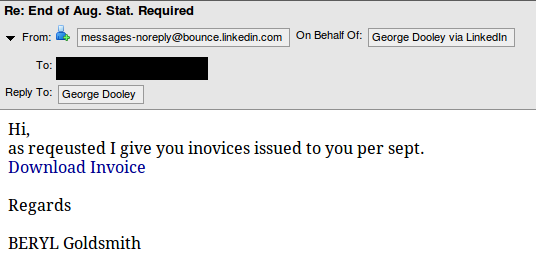 Thank you very much BERYL for my LinkedIn invoice…

I have no idea who you are, JENELLE MOSELEY, but I will certainly do everything in my power to help you with this bill.  Were you recently hired in at my company as a book keeper and I wasn't told?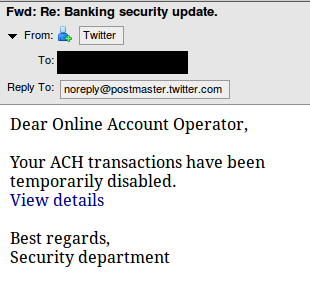 I am always relieved to know that my Twitter Online Banking account is secure.  I would certainly want to look into this…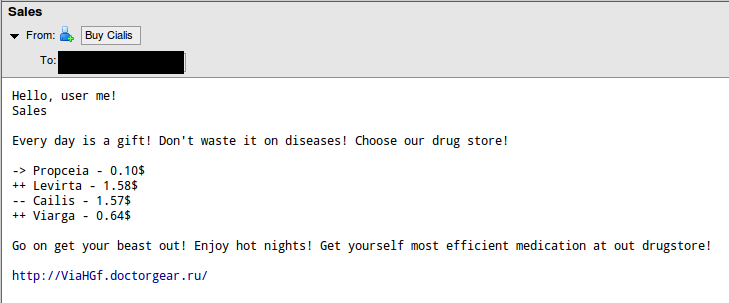 You're right, every day is a gift, so I shouldn't waste it reading your poorly worded spam…
I don't know why everyone thinks I want changelogs.  Thank you Mr. Walls, Mr. Slade, and Mr. uh, Stoner…
In my entire Junk folder, the only email I found with any effort put forth was this fake order confirmation from Intuit.

Sometimes, I yearn for the days of Nigerian royalty.